Buying a new smartphone was a bit of a mission for Deepa Aswani, who works in marketing in Mumbai.
"I am very particular about what phone I buy. I did not want to invest too much," she says.
After two months of deliberation, she chose the OnePlus 10R, which in a sale cost her $400 (£329), a reasonable price for a smartphone, but still a significant sum in any country, and particularly in a developing one like India.
"The idea was to buy a phone which did not make a hole in my pocket and had good features. I am happy with the phone I have purchased," she says.
Like most phones sold in India, the OnePlus is made in China. According to a report by CRISIL Research, in 2022 60% of phones sold in India were made in China.
But that figure has been coming down – in 2021 it stood at 64% – as Indian firms have begun win market share.
Micromax Informatics is one of those challengers. It entered the mobile handset business in 2008. In just two years it grew to become one of India's biggest makers of cheaper phones, known as feature phones.
Despite that growth, Micromax co-founder Rajesh Agarwal, says it is hard to compete with Chinese smartphone makers.
When his firm launches a new phone, he can hope to sell about a million units in India. But a Chinese phone maker can sell 10 million phones, or more, which gives them a big cost advantage.
"They have huge strength in terms of production," he says.
On top of that, Chinese firms can source almost all of their components locally.
India does make some parts, including chargers, cables and batteries, but the more sophisticated parts, like screens and computer chips are almost always made abroad.
"As far as the manufacturing is concerned – it is the beginning. We have to become our own kitchen where we are able to produce all our components locally," says Mr Agarwal.
"The final goal would be to transition from being a producer for domestic consumption to serving global demand, not just for phones but laptops, tablets and other devices," he adds.
The Indian government is hoping to accelerate that move.
In April 2021 it launched the Production Linked Incentive (PLI) Scheme for Telecom and Networking Equipment.
It is the latest part of a government policy, which goes back years, aiming to increase all types of manufacturing in India.
The PLI scheme subsidises mobile phone components that are made in India. It is hoped that will make them more competitive and boost production.
According to the India Cellular and Electronics Association (ICEA), at the moment between 15% and 20% of the parts that make up an Indian phone are made in India.
The aim of the PLI scheme is to raise that to between 35% and 40%.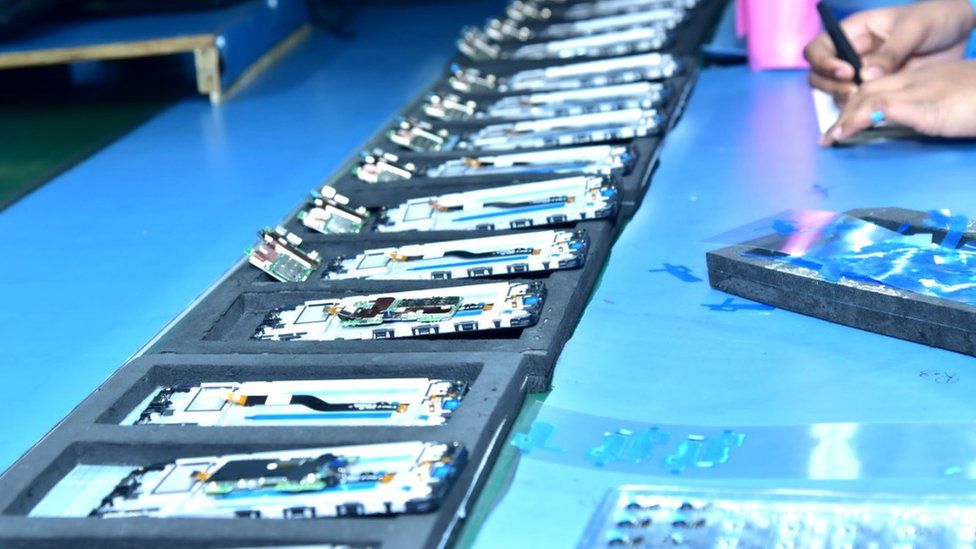 "The production-linked incentive scheme is a game changer for electronics manufacturing," says ICEA chairman, Pankaj Mohindroo.
"India is currently one of the fastest growing mobile phone manufacturers in the world and has emerged as the second largest manufacturer of mobile handsets in the world," he says.
Mobile phones are the biggest single component of India's electronic exports and next year are expected to make up 50% of electronics exports, according to the ICEA.
"India will become the next global hub for cell phone manufacturers," predicts Hari Om Rai, the chairman of Indian phone maker Lava International.
He points out that China, as it has become richer and seen wages rising, has lost some of the cost advantage that it had over other nations.
Also, Mr Om Rai says firms all over the world are worried about becoming overly reliant on products from China.
And the disruption at Apple's key supplier in the city of Zhengzhou is unlikely to have lessened those worries.
If firms want to locate manufacturing elsewhere then, according to Mr Om Rai, India is an attractive option.
"India has 18% of the world's population, with a mere 3.1% of the GDP. As the country's GDP grows, it will become one of the world's largest markets. Looking at the long-term potential, every company is trying to establish itself and outcompete its competitors in India," he says.
Back in Mumbai, all this industrial policy is of little interest to Deepa Aswani: "It does not bother me where my smartphone is manufactured. I think as a consumer all that matters is budget and features. As a smartphone buyer I would look at the country which has advanced technology and is pocket friendly."