The young woman commands a devoted following of 6.4 million fans on China's Twitter-like platform, where she posts hot takes and videos on current affairs.
With her reassuring smile, Chinese blogger Guyanmuchan cuts a friendly figure on Weibo.
The young woman commands a devoted following of 6.4 million fans on China's Twitter-like platform, where she posts hot takes and videos on current affairs.
But the cute aesthetics of her brand – her page features a dreamy picture of a girl posing in the woods – belie her often acidic tone.
The European Union is "on a dog leash" to America, according to a recent post. Rising Covid rates in the US state of Texas was evidence of "civil war" where "Americans are currently killing one another with biological warfare", said another.
Guyanmuchan is among a new crop of bloggers known as the "ziganwu", whose rise in fame on Chinese social media has been inextricably linked with the ascendancy of Chinese nationalism.
Their name refers to the infamous "wumao" army of trolls who are paid to spread state propaganda – but the difference is that the "ziganwu" do it for free.
Their scathing posts and videos, shared by tens of thousands of fans, often criticise Western countries and media outlets. Issues like feminism, human rights, multiculturalism, democracy which are deemed as Western influence "corrupting" Chinese society have also been scrutinised.
Those seen as promoting "separatism" such as Taiwan and Hong Kong pro-democracy campaigners, as well as activists, intellectuals and experts, also often end up in their crosshairs.
Their targets have included writer Fang Fang, who is known for her searing account of the initial stages of the Wuhan outbreak that attracted international attention. In a post that went viral last year, "ziganwu" blogger Shangdizhiying accused her of "making the deepest stab in our backs" and creating "one of the biggest weapons used by anti-China forces to smear us".
More recently, top medical expert Zhang Wenhong became a target after he appeared to suggest that China should learn to live with Covid, seen as contradicting official policy.
Several bloggers promptly dug up an old dissertation and accused him of plagiarism, an allegation which his university later cleared him of. A suggestion that children should drink milk for breakfast was taken as a sign that he was rejecting traditional Chinese breakfast – and values. "Isn't this too much worship of the West and fawning over foreigners?" wrote Pingminwangxiaoshi.
Such posts, dozens of which can be pumped out each day, are often brief and emotional, which is one reason why they go viral, say experts.
"This is fast food nationalism," says Chinese social media analyst Manya Koetse. "People have a bite of it, share it, then forget it."
Explosive mix
Many see the rise of patriotic Chinese sentiment as an outcome of increasing tensions between China and the West – but that is only half the story.
While nationalism has been on the rise in many places in an increasingly globalised world, in China it has coincided with President Xi Jinping's strong promotion of a Chinese identity and the rapid ubiquity of social media.
Many of the "ziganwu" are "often young, grew up with an education that was filled with patriotism and pride of China, and fed these historical memories of national humiliation", says Ms Koetse. "So you have an explosive mix of anti-foreign, pro-Chinese sentiments with a stress on Chinese culture and identity."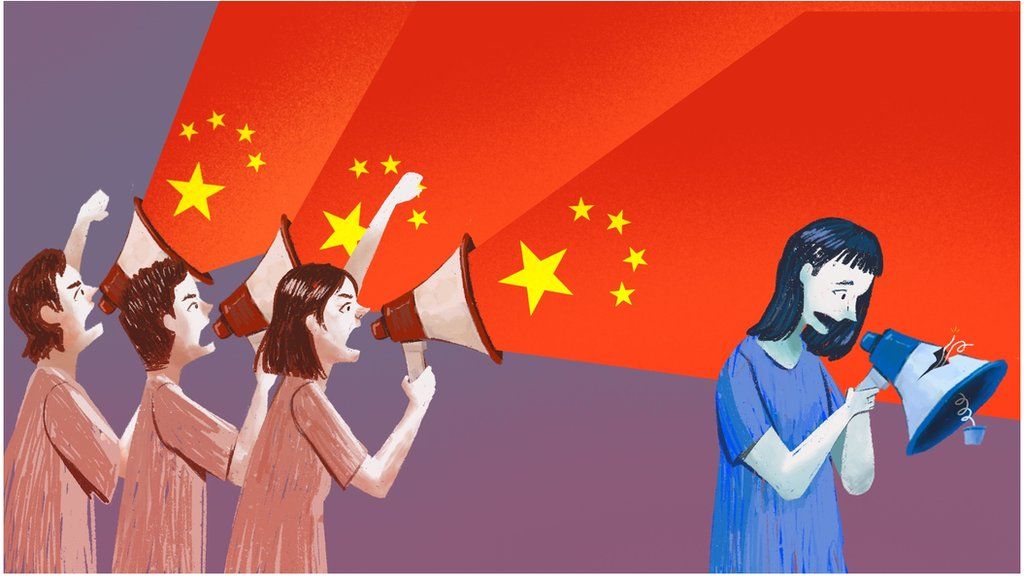 Their rise in prominence is striking given that China has also increasingly enforced strict rules on online speech, resulting in heavy censorship of activists and ordinary citizens. "Sensitive" posts are regularly scrubbed from platforms like Weibo and WeChat.
In stark contrast, voices which tend to promote the official Chinese government line appear to be given freer rein, say observers, and in some cases even amplified by state media who repost their content on social media or reprint their essays.
It is not known whether these "ziganwu" have direct links to the state, but some have been invited to attend events or given honorary titles by provincial governments.
Guyanmuchan, whose real name is Shu Chang, first made her mark in 2014 with an essay titled "You are a Chinese person" that was widely carried in mainstream media. Since then she has appeared at a bloggers' event hosted by the Yantai city government; given a lecture organised by state-run news outlet Youth.cn; and was one of several bloggers named as an "internet ambassador" by Guangdong province in July.
She did not respond to a BBC request for comment.
Symbiotic relationship
The "ziganwu" are just one part of a complex eco-system.
Much of the patriotic discourse in Chinese social media, particularly on Weibo, is still being driven by state media outlets who can shape discussions by creating and promoting a single hashtag – as they did during the Xinjiang cotton backlash.
But there are many smaller groups of influencers who also feed the outrage machine, including digital artists, smaller media companies, respected university professors, and even foreigner vloggers.
China's internet regulations encourage users to actively promote party propaganda, so many of these influencers are simply exploiting this system, notes Harpre Ke, an analyst with think-tank Doublethink Lab.
"You can be an opportunist. If I want to be a career social media influencer, that's how I can become famous in this toxic nationalist environment that is being created," he said.
While they may not be directly paid by the state, these influencers still benefit by having their profiles boosted in national media and using this recognition to build their personal brands, say analysts.
With increased readership, they can earn significant amounts from advertisements or paid content. Journalism and communications academic Dr Fang Kecheng estimates that a social media account with more than a million followers could earn the equivalent of a few hundred thousands of dollars a year.
The state benefits in return. For instance, by getting "ziganwu" to do talks, the state "invites them to do their ideology work for them, so these bloggers become successful icons and role models [of propaganda]," says Mr Ke.
Social media platforms such as Weibo and Wechat play a part by recommending and promoting posts that encourage loyalty to the Communist Party, says Dr Fang, and they stand to benefit commercially too. "It increases engagement and user activity, so it's a very good strategy for them," he says.
But the influencers toe a very fine line, and have on occasion strayed too far in their fervour.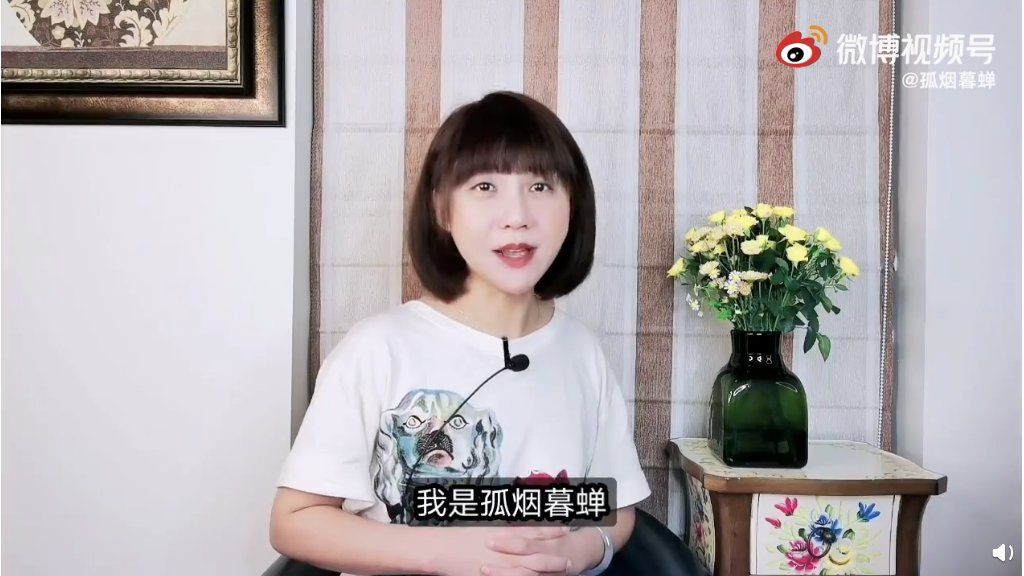 In recent months, some "ziganwu" posts speculating that Covid leaked from a US laboratory and others attacking Zhang Wenhong were scrubbed. An impassioned essay which called for radical Communist reforms went viral and was carried by state media, but then briefly censored following online controversy.
"Sometimes the rules on what you can or cannot say are very murky," says Ms Koetse. "It can only take one Weibo post for these influencers to disappear.
"They might be helpful for official discourse as long as their personal convictions are in line with the official stance, but the moment they are seen as no longer useful, or perceived as going against [the government's] discourse – they will go."
But many are prepared to play this high-stakes game.
In late September, Guyanmuchan was suddenly barred from posting new content on her Weibo page for 15 days, with the platform stating she had "violated community guidelines".
She immediately promoted an old post directing readers to an alternate page, where she continued posting her daily torrent of strident posts.
"I've set up this small account," she wrote. "Just in case something happens."